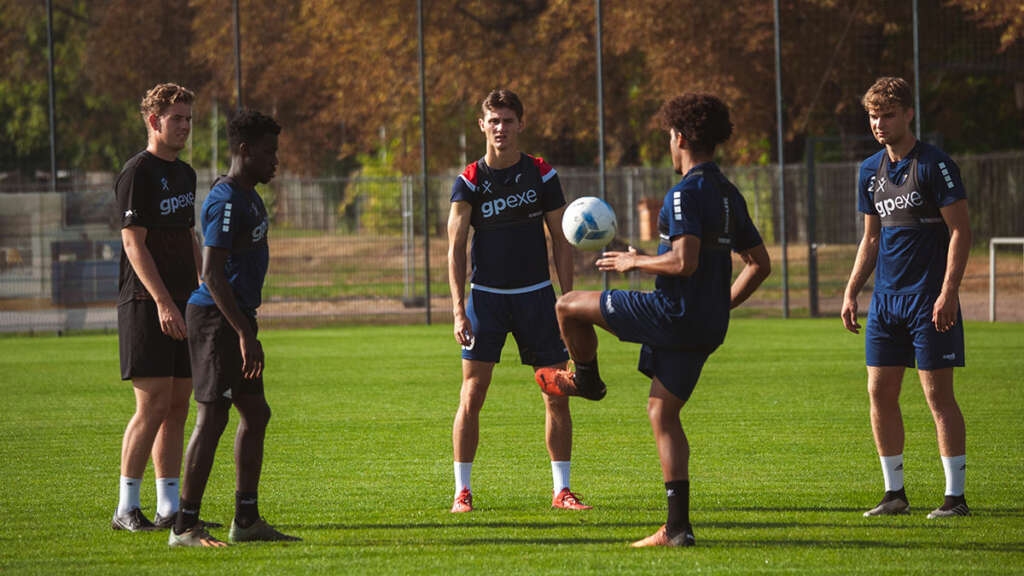 Students of the academy during training
The Soccer Academy Arnstadt offers a fully comprehensive training program under professional conditions for soccer players in the age groups 16-21. The goal is to ensure the best possible athletic training and to accompany and support the soccer path.
The players of the Soccer Academy are part of the teams of SV 09 Arnstadt e.V. and play league games there.
The U17 and U19 age groups are organized in special junior teams that take part in official league play. Due to the close cooperation/connection with the men's team, the U21 players can already gain match practice and experience in the men's sector.
The Soccer Academy focuses on individual development and works on improving the technical, coordinative, physical and tactical skills of each individual in order to achieve optimum progress.
Likewise, group and team tactical content is taught, as well as the ability to work in a team, the ability to take criticism and how to deal with other people! The athletic training focuses are periodized by age and regularly reviewed by our suitable and qualified coaches. After different tests at the beginning of the Academy time, comparative tests are completed during the season to document and analyze the development process!
In coordination with school training, up to eight training sessions take place each week. These are integrated and adapted into the school day. In addition, there are game days on the weekends. In addition to the league games, we plan comparison games against different teams.
Since September 2022, we have also been offering a very special program to all regional talented young people aged 14 and over: From now on, you have the opportunity to join our Academy once a week for a 75-minute training session in addition to your club training.
You can find all the information here:
Soccer Academy Arnstadt
PREMIUM PARTNERS