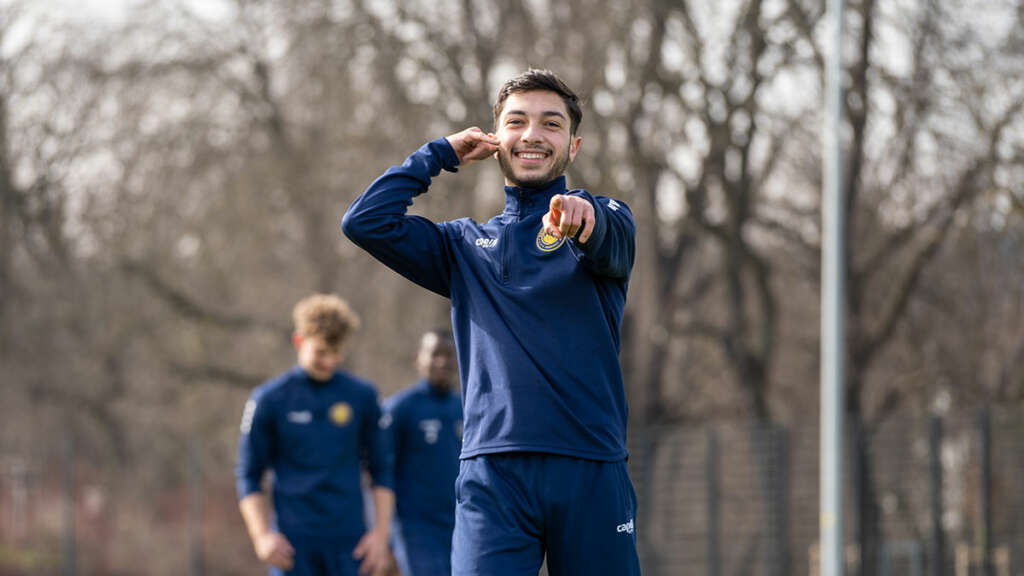 Soccer Academy Arnstadt – your pathway into professional soccer in Germany
Become the best soccer player you can be. Realize you potential. Use your opportunity to be part of a soccer showcase and tryout in German soccer. Stay for two to six weeks at the Soccer Academy Arnstadt. Train daily under Bundeslga player development protocols with professional coaches and earn your tryout in a club in the German league system. It doesn't matter how good your level is – we'll find the right club for you!
The goal is to train, develop and play in Germany while creating a pathway to play professionally
What is included in your showcase & tryout residential camp?
Camp for men aged 16 to 21

Double bedroom at the Soccer Academy Arnstadt

Full broad (food and accommodation)

Frankfurt International Airport (Pickup & Return)

Daily training (up to three sessions) with professional youth coaches

Outstanding training facilities

Organized cultural sightseeing

Capelli training kit

Transportation

Support, guidance, supervision and 24-hour emergency assistance during stay
Price: 550,- € per week
Including everything mentioned.
Dates: July and August 2023
Let us know how long you want to stay. Train up to 6 weeks with us to secure your personal development and tryouts on your growing appropriate level.
Since 2020, the Soccer Academy Arnstadt has successfully managed hundreds of soccer trials in Germany for players from around the world. The Soccer Academy is the best start for your pathway to become a professional soccer player.We are here to develop you to the best player you can be. The normal weekly schedule consists of daily training under Bundesliga player development protocols in the mornings and evenings. Friendly matches of the academy team against professional academies or with German club team, which can be Rot- Weiss Erfurt, Carl-Zeiss Jena, SV 09 Arnstadt e.V. and other teams in the region.
The morning training generally consists of technical training in small groups to allow you a lot of repetitions to increase your technical skills. The evening sessions are in large groups and concentrate on tactics if you train in the academy.
Additional sessions include strength and coordination training, cognitive training, flexibility and speed training. These sessions are quite intense and are often as demanding on the cognitive as they are on the physical systems.
The coaching staff consists of highly qualified, German Federation licensed coaches that have demonstrated expertise in Bundesliga protocols for the development of young players.
Players who demonstrate a unique and exceptional level of soccer, will get tryouts with professional soccer clubs in Germany. Otherwise, the players will trial with partner semi pro and amateur clubs.
Not only does our soccer trials program give qualified players access to our extensive network of professional soccer teams and semi pro soccer/Amateur soccer clubs, but it also enables an unforgettable experience in soccer and life in another country, giving them total immersion in a foreign amateur or pro soccer team.
Thanks to Torsten Traub the co-founder and managing director of the Soccer Academy Arnstadt, there are relationships with pro soccer teams throughout Germany. He has arranged pro soccer tryouts with numerous Bundesliga soccer clubs, who compete in the German soccer league comprising the top three German leagues.
He's former professional soccer player and manager of a 2nd and 3rd Bundesliga club. He has played in more than 350 professional games for clubs like FC St. Pauli, FC Rot-Weiss Erfurt and FC Augsburg.
After his professional soccer career, he became the manager of FC Rot-Weiss Erfurt for nearly 8 years. After this experience, he decided to concentrate on the development of young soccer player and is now one co-founder of the Soccer Academy in Arnstadt, where you will train and live. Because of his proficiency in the soccer world, he is the best mentor for you in this field, he and his team of professional coaches will help you to become the best soccer player you can be. Benefit from his skills in the world of soccer and enjoy your time at the Soccer Academy Arnstadt.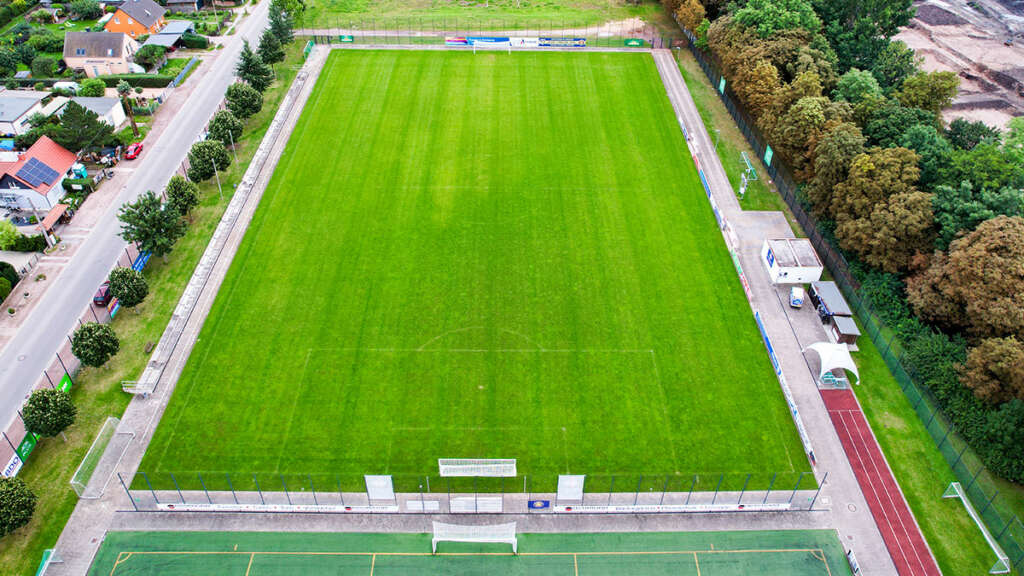 Aerial view of the training pitch "Am Obertunk"
Outstanding training facilities
With three grass fields and two artificial turf fields, the the Soccer Academy Arnstadt is optimally equipped to train their players under professional conditions.
The training centers can be reached on foot within a few minutes.
In addition to the training grounds, a three-field gym and a two-field gym are also available.
With P2 Sport- und Freizeitpark Arnstadt we can offer our players a state of the art fitness center in walking distance.
YOUR HOME – BOARDING SCHOOL
The heart of the Soccer Academy, besides the training fields, is the boarding house, which offers a small piece of home with its spacious facility. On more than 5000 square meters, there are 37 boarding rooms, teaching and learning rooms, rooms for leisure activities, a dining hall, a small restaurant with a bar and a beautiful outdoor area.
The furnished rooms are bright, very homelike and offer space for a bed, desk and a closet. Each room has its own small entrance area and a bathroom including a shower.
The boarding house is located within walking distance to the training grounds. Catering is provided by our in-house kitchen, which cooks fresh and athlete-friendly meals every day. Breakfast, lunch and dinner are completely covered, as well as packed lunches for longer trips!
The boarding students are assisted by qualified educators and social supervisors, ensuring 24/7 supervision.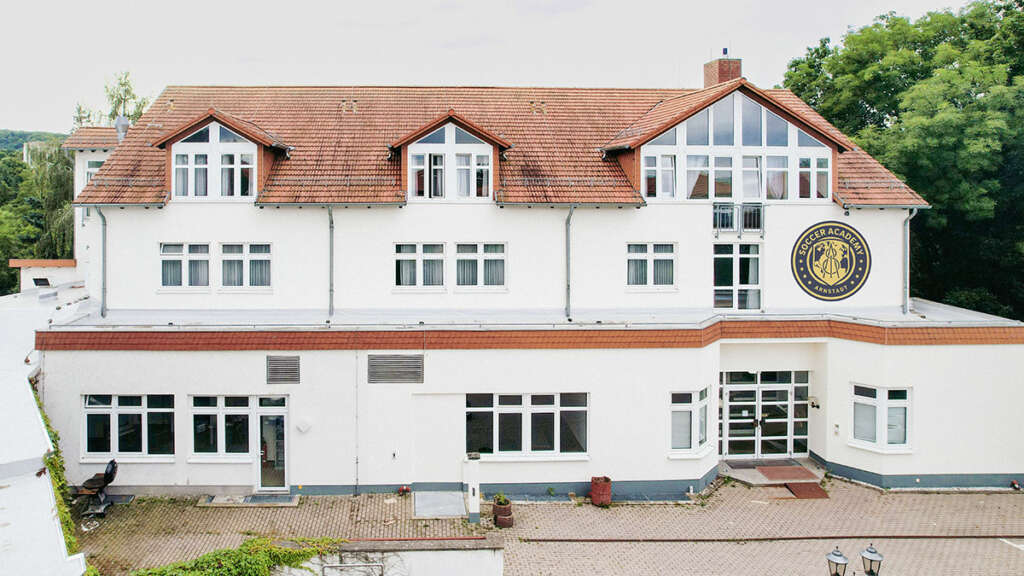 The boarding house of the Soccer Academy Arnstadt
Apply now!
Kick off your soccer career in Germany
Soccer Academy Arnstadt
PREMIUM PARTNERS